Saffron tea is a Kashmiri traditional tea made with saffron threads. Saffron tea is refreshing and mood-lifting herbal beverages that have a lot of anti-depressant properties. Unlike Zafrani chai which is made with milk, this saffron tea is a kind of Kehwa purely water-based thus keeps your calories in check.
Saffron tea has various rejuvenating properties and is rich in anti-oxidants. Most importantly the taste of saffron tea is just a perfect combo of sweetness with a slightly spicy flavor. The tea is often served during marriages and on important occasions. It is consumed during winters because of its uncountable health benefits and immunity strengthening power.
Ingredients:

Saffron: It is the main ingredient of the tea, so you must only use high-quality saffron which is free from adulteration. Crimson saffron provided you the best quality saffron without any adulteration.

Cinnamon: is mainly a winter spice that has blended sweet and savory flavors with an aromatic smell. Cinnamon evokes warmth and comfort during winters and is the main component of Kashmiri kehva.

Ginger: Ginger has been used in our food cuisines for ages. It has enormous medicinal properties used for curing cough, cold, flu, and inflammation.

Sugar: adds a flavor to the tea. You can use honey or another sweetener to get the desire. It is usually preferred to use a medium quantity of sugar so that the tea would have a balanced flavor of spices and sugar.
Course: Beverage.
Cuisine: Continental.
Prep time: 5 mins.
Cook time: 15 mins.
Total time: 20 mins.
Ingredients:
½ litre water.
0.25g saffron (10-15 strands).
1tsp sugar.
1stick cinnamon.
1tsp ginger grated.

Instructions:
Add some water in a pan and allow it to boil.
Once the water starts boiling add cinnamon stick, grated ginger, saffron, sugar to the water.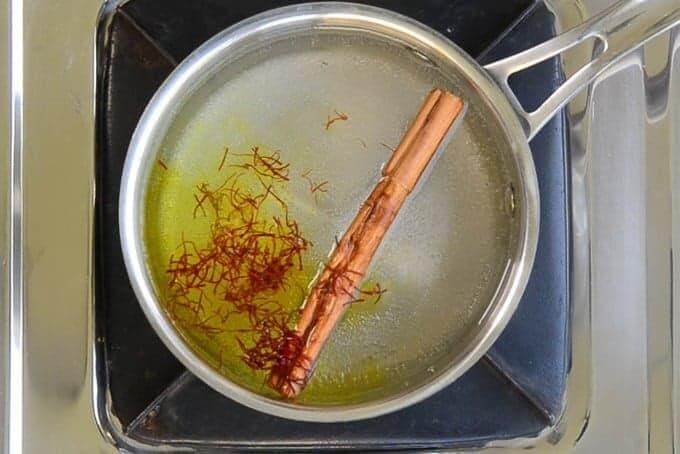 Let the tea simmer for 15 mins and cover the pan with a lid.
Strain the tea and serve it hot.
Additional tips:
Use freshly grated ginger. Avoid using ginger powder as it will not produce a good taste and will not produce good color.
Add ingredients only after water comes to a boil.
Use a moderate amount of sugar such that you can get a blended taste of spices and sugar together.